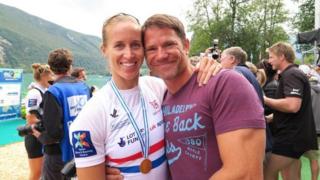 Backshall 'will cry' if fiancée Glover wins gold
He can usually be found searching for the deadliest animals in the world, but Steve Backshall is basing himself in Rio to support his fiancée, GB rower Helen Glover.
She's aiming to defend her gold medal from London 2012 in the women's coxless pair event, with her partner Heather Stanning.
"They work so hard for the four years running up to an Olympics, everything is focused on that moment and for Helen it's one seven-minute race," Steve told Newsround.
"I find it very stressful sitting watching her, but if things go well it will be one of the greatest moments of my life."
He admitted that he will "cry like a baby" if Helen wins gold!
Helen and Heather's final is due to take place on Friday.