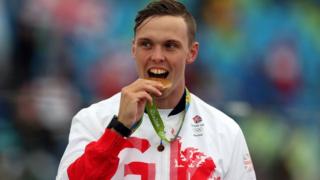 Joe Clarke wins kayak slalom gold
Joe Clarke won gold in the kayak slalom, winning in 88.53 seconds.
Clarke, who is 23, says he was inspired as a child by rowing legend Sir Steve Redgrave and started paddling when he was 11-year-old and on a kayaking trip with the scouts.
He's the first British man to win the kayak slalom since the Athens Olympics in 2004.
"Wow, I really can't put it into words," said Clarke. "I'm gobsmacked, and I knew I was capable of such a performance, but to put it down in the Olympic final is just a dream come true."