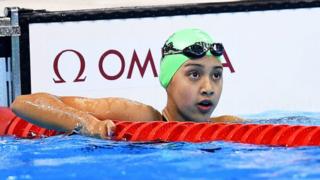 Youngest Olympian 'proud' to be in Rio
Thirteen-year-old swimmer Gaurika Singh says she's "really proud" to be the youngest athlete at the Rio Olympics.
She's representing Nepal in south Asia, which is where she was born but she's grown up and trains in the UK.
Gaurika was 13 years and 255 days old when she competed in the 100m backstroke heats.
Ricky's been to meet her.