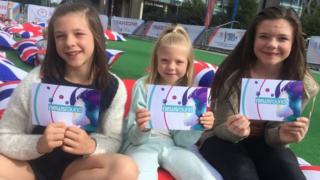 'Our sister is an Olympic athlete'
The sisters of weightlifter Rebekah Tiler have been telling Newsround what life is like with an Olympic athlete in your family.
The 17-year-old is one of the youngest members of Team GB out in Rio.
Her three younger sisters, Lisa, Emily and Sophie, are supporting her from back home in the UK.
All three of them are interested in weightlifting too.
Lisa tells Newsround: "In our house it's really competitive - you can be having your breakfast and we're just trying to fit each other up!"
Rebekah finished 10th in the women's 69kg event on Wednesday.
Watch her sisters speaking to Newsround ahead of the competition.