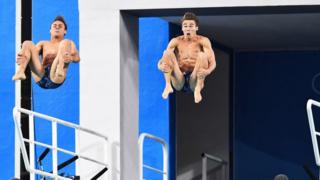 Watch Daley and Goodfellow win bronze
Tom Daley and his diving partner, Dan Goodfellow, have won bronze in the synchronised ten-metre platform.
The pair produced a near perfect dive to take the bronze medal in a tense finish.
They were the last team to dive, meaning they knew what they needed to do to overtake Germany, who were sitting in third place.
With a score of over 84 points needed, the British duo waited nervously before leaping into the pool when the score of 89.64 came up.
China's Lin Yue and Chen Aisen, won gold and United States pair David Boudia and Steele Johnson claimed silver.
Daley and Goodfellow's bronze medal brings Team GB's Olympic medal tally to four and puts them 10th overall in the medal table.
There was another bronze for Team GB on day three, in the men's trap shooting for Ed Ling, who's a farmer from Somerset.