Team GB's Adam Peaty has smashed his own world record to take Olympic gold in the men's 100 metre breaststroke.
He finished the race in 57.13 seconds, which was over a second ahead of his nearest rival in the pool.
His gold is Great Britain's first medal of the Rio Olympics.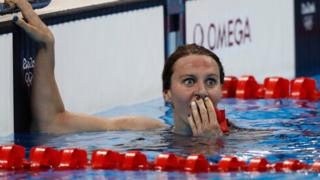 Getty Images
But they didn't have to wait long for the next one - it was quickly followed by a silver from Jazz Carlin in the women's 400 metre freestyle.
Peaty's win means he's the first British man to win an Olympic swimming gold since 1988.
His victory is all the more impressive because he was scared of water when he was little.