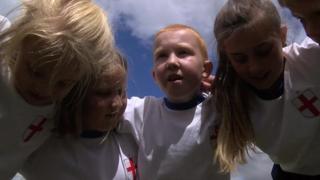 Amputee boy's footy match dream
Meet Marshall, an eight-year-old boy with a lot of confidence on the football pitch.
Marshall was very ill when when he was younger with a condition called meningitis.
This meant he had to have surgery and had most of his arms and legs amputated.
But that hasn't stopped him continuing with his passion for football.
He's now been given the chance to captain his own team at a special game put on by his local footy team.
Check out Naz's report.