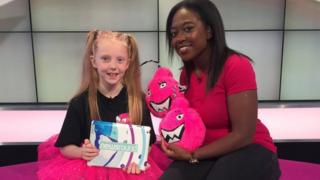 Glitterbomb will 'make big men cry'
While your parents might remember it from years ago, Robot Wars has returned to our TV screens bigger and better than ever.
The show sees competitors battle their self-built robots in a bid to be crowned Robot Wars champion.
One of the stars of this week's show is nine-year-old April, who designed her robot Glitterbomb.
She told Ayshah that her pink robot, built by her dad, is ready to make the other teams cry.