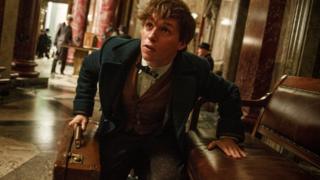 Warner Bros
Warner Bros has announced a follow-up to upcoming Harry Potter spin-off film Fantastic Beasts and Where to Find Them.
The first film, starring Oscar-winning actor Eddie Redmayne, is due out in cinemas on 18 November.
JK Rowling, who wrote the film script for Fantastic Beasts, will also write the sequel.
Warner Bros said the second film "moves deeper into an increasingly dark time for the wizarding world".
Rowling previously said the Fantastic Beasts film series - based on her book of the same name - would be made up of three movies, but this is the first time Warner Bros has confirmed the plan.