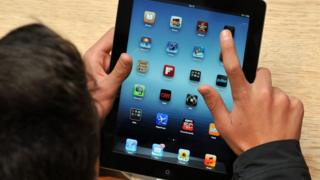 PA
Do you spend a lot of time online? Have you already been on your phone, tablet or computer this morning?
If it's a yes, then you're not alone - new research suggests that going online has led to nearly one in three people missing out on time with friends and family.
The study's been done by Ofcom, the organisation that keeps a check on how services like the internet, TV and radio are run.
"Kids and parents aren't spending as much time talking to each other as a family," Steven Cape from Ofcom told Newsround.
"Whether that's the parents with their phones bleeping away with messages from work or whether that's kids at the dining table trying to catch Pokemon."
Tech is not taking over our family, my sister has a new phone and has hardly been on it. I have been in the garden loads and my sister has been doing a dance summer school. Tech is useful but there are better things to do.
Matthew, United Kingdom
I have been on my tablet this morning, and have been on it for a long time. I have no idea how to get off my tech more.
Sarah, Derbyshire, England
No it doesn't. When we are having dinner or something together we turn off our phones.
Bethany, Devon, England
It doesn't really affect my family because sometimes my work is on the computer and I use it for coding. But sometimes it does affect my family because my little sister just wants to watch Peppa Pig.
Ben, Oxford, England
We hardly use tech in our house.
Jasmine, Coventry, England
I think I spend lots of time on my gadgets. I have a laptop, an iPad and an iPhone. But it's hard to limit myself because I want to talk to my friends and check my social media.
Brianna, England
This chat page is now closed. Thank you for your comments.