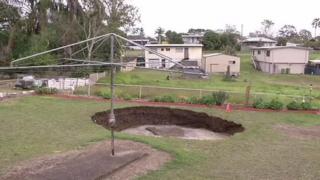 Honey! There's a sinkhole in our garden
A sinkhole filled with water appeared in the back garden of a house in Queensland, Australia, on Tuesday.
House owners Lynn and Ray McKay woke up to find the small hole after being alerted to it by a neighbour.
The sinkhole with swirling water got wider gradually, swallowing part of the garden, and increasing to about 8m, local media reported.
An old mine shaft could have been the cause of the sinkhole, according to local media.
The town's mayor said the state's Department of Mines will send a team to investigate.