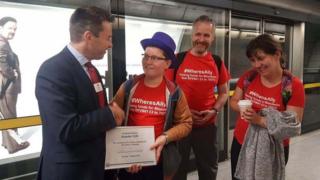 Boy visits 270 Tube stations in 24 hours
A 13-year-old boy has completed a challenge to visit all the London Underground stations in one day in memory of his older brother.
Alasdair, from the Wirral in England, took on the "Tube Challenge" after his brother Adam died from cancer in March.
Alasdair began at Chesham station at 5.15am on Monday and finished at Heathrow early on Tuesday, in aid of charity Bloodwise.
In total he stopped at 270 stations.
So far, Alasdair has far gone past his original target on raising £100, having received more than £11,000 in donations.