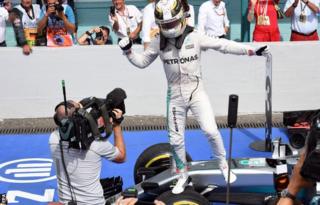 EPA
Lewis Hamilton dominated the German Grand Prix to move into a 19-point lead in the Formula 1 championship over Mercedes team-mate Nico Rosberg.
Hamilton shot into the lead at the start as Rosberg slipped to fourth, where he finished after a difficult afternoon.
Rosberg was punished for forcing Red Bull's Max Verstappen off the track.
The German finished behind Red Bull's Daniel Ricciardo and Verstappen after being unable to make up the lost time.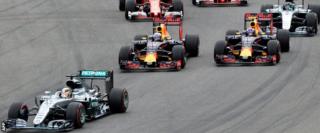 AFP
It was the icing on the cake for a perfect afternoon for Hamilton, who is now in control in the championship race after a remarkable recovery from a difficult start to the season.
In seven races, Hamilton has turned his season around, moving from 43 points behind Rosberg to his current advantage of being 19 points ahead. This was his fourth victory in a row.