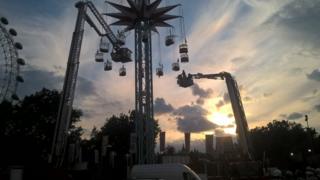 London Fire Brigade
Fire crews have rescued 19 people - six of them children - who were left stuck on a fairground ride 20 metres above the South Bank in London.
Some spent more than three hours trapped on the ride on Sunday.
Clive Robinson, from London Fire Brigade, said: "It was slow work as we needed to access each cage on the ride individually."
London Wonderground, where the ride is based, said it was being investigated for a "technical fault".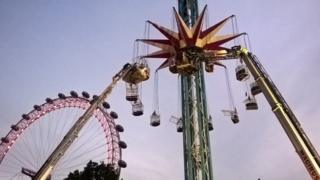 London Fire Brigade
The brigade, which had been called shortly before 6pm, said there were no injuries.
The Starflyer fairground ride, part of the Southbank's Centre's London Wonderground playground, stands 60 metres high.