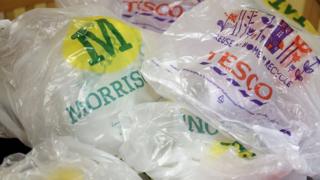 PA
The number of plastic bags used in England has fallen since shops started charging for them last October.
In the first six months of the charge, supermarkets gave out 600 million bags - that's compared to more than seven billion thought to have been used in 2014.
The government hope that, over the year, six billion fewer bags will be used.
It's hoped that fewer people using plastic bags will help the environment.
Wales, Northern Ireland and Scotland had a similar drop when charges were brought in for bags.