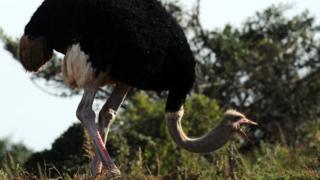 Getty Images
A family of ostriches has been spotted running wild near the village of Patna, in Ayrshire.
There have been a number of sightings of the feathered fugitives and the Scottish SPCA is keen to track down the exotic birds.
Ostriches can become aggressive when protecting their young so locals have been told not approach the birds.
The SPCA said: ''Anyone in the area who spots the Ostrich or it's young should call us as soon as possible.''
The real mystery is no one knows where the giant birds have actually come from.
Ostriches are native to Africa not the hills and valleys of Scotland.
Perhaps they just fancied a bit of a holiday in the quiet Scottish countryside?