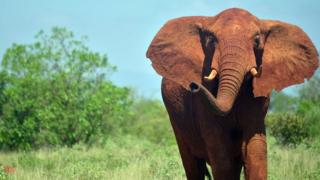 Why 500 elephants are moving home
Five hundred African elephants are being moved to a wildlife reserve in central Malawi from two parks in the southern part of the country.
Elephants are the world's largest land mammal and helping that many of them move home is a humongous challenge.
They're being relocated as part of a project to help protect the species.
The number of African elephants has declined due to poaching and it's hoped this herd could restore elephant populations in other parts of Africa in the future.
Prince Harry is in Africa and will be helping the project run smoothly.
Kensington Palace said in a statement: "One of the projects he will work with is African Parks' 500 elephants initiative, which will see one of the largest and most significant elephant trans-locations in conservation history."
Jenny has more on the big African move...