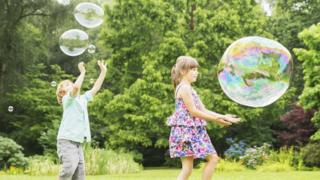 Getty Images
The summer holidays are here and maybe you're planning on leaving your tech behind and playing out in the sunshine - or rain, if you're unlucky...
One charity, the National Trust, wants kids to rediscover sticks. It says a stick can be used as anything, like a pen or a witch's broom!
So if you're heading into the wild and getting back to nature, what will you be playing?

We love climbing trees, it's great for balance and exercise, it's really fun... and it's free!
Thomas and Emma, UK
I like to go to our local playground and go on my bike. I also like playing the yes and no game and bop it when it's raining outside.
Hope, Aberfeldy, Scotland
My favourite game to play outside is hide-and-seek tag because it's fun to play with friends and family.
Daisy, Hebburn, England
My favourite "no tech" activities are playing swingball and catch with a tennis ball.
Jessica, London, England
I like to play badminton in my garden with my sister.
Akshita, Milton Keynes, England
My favourite activity to do in the summer is rowing. It's good exercise but also really fun!
Madison, Devon, England
I like to play badminton or tennis with my sister.
Sofia, London, England
I like to ride my bike or go to the park.
Elisa, Lichfield, England
When it's hot me and my friend play with water bombs and water guns. Also, the other day me and my other friend went exploring.
Sameeha, London, England
I enjoy going on my waterslide!
Charlotte, Ilminster, England