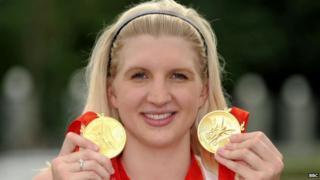 Becky Adlington wants kids to take the plunge
Rebecca Adlington is no stranger to making a splash, winning gold medals and breaking world records in swimming.
Rebecca retired from professional swimming in 2013, but took with her memories of competing in some amazing events such as the 2012 Olympics.
Since retiring she had a baby and even appeared in a series of the reality show 'I'm A Celebrity, Get Me Out Of Here!'
Now she is back in the pool, this time not to compete for medals but to inspire kids to exercise more.
Ayshah caught up with with her in Manchester, check out the video.
.