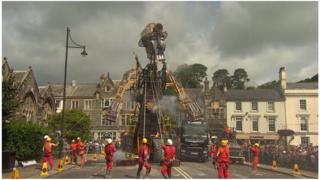 UK's biggest mechanical puppet unveiled
A 10 metre tall 'Mining Man Engine' puppet is making an historic journey through Cornwall, to celebrate the area's mining history.
It's the biggest mechanical puppet ever made in the UK, weighing in at 40 tonnes, and will travel 130 miles in two weeks.
It's operated by a team of volunteer puppeteers, who use ropes to control the giant model.
It's all to celebrate the culture of mining in Cornwall and West Devon, which were added to the list of World Heritage Sites by a charity called UNESCO 10 year ago.