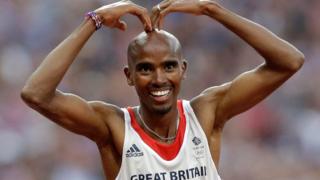 AP
The Olympic Games in Rio kick off on Friday 5 August.
Newsround will be counting down each day with our own round up of Olympic legends.
But who's your favourite Olympic star of all time?
Thanks for all your comments! This chat page is now closed.
I like Usain Bolt because he is extremely fast and is one of the world's fastest runners.
Jasmine, 8, Coventry
My Olympic hero is Usain Bolt because he is the fastest man in the world and i just think that is amazinggggggg!!!!!!!!!!!!!
Imogen, 10
My hero is Louis Smith
Alfie, 10, Sutton
My Olympic hero is Jessica Ennis-Hill because she doesn't give up and she tries her best.
Jessica, 15, London
My Olympic hero is Mo Farah because he is a runner like me.
Connor, 8, Dunfermline
My Olympic hero is Colin Lynch who is a cyclist in the Paralympics.
Amelia, 10, Buxton
My hero is Max Whitlock because he is the best UK gymnast and I look up to him.
Ashton, 11, Worcestershire
My hero is the diver Tom Daley.
Benjamin, 10, Devon
My Olympic hero would have to be Jessica Ennis-Hill
Madison, 13, Devon