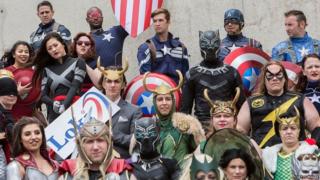 Getty Images
New heroes, new villains and new trailers give fans a treat at this year's San Diego Comic Con.
More than 130,000 fans attend the big convention every year in America, which celebrates comics, movies and science fiction.
Movie stars and directors often have huge panels where they talk about upcoming films or TV series.
This year Marvel, DC and Warner Bros have all revealed some big news about some of the superhero films that will be hitting the big screens soon.
Wonder Woman is here!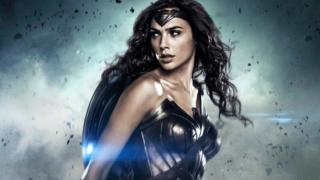 Warner Bros
The first trailer for the new film about superhero Wonder Woman has been released.
Wonder Woman is a warrior princess and one of the most famous superheroes from the DC Universe.
She is incredibly strong, has bullet-proof armour and a virtually indestructible lasso given to her by ancient gods.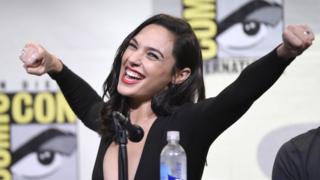 AP
Actress Gal Gadot plays Wonder Woman in the movie, with Chris Pine co-starring as Steve Trevor.
Talking about her character, Gal said: "We need heroes who are strong enough to be loving and forgiving…that's what Wonder Woman in particular stands for."
The film will be out in cinemas in June 2017.
Black Panther's new villain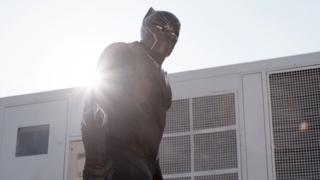 Disney/Marvel
Marvel also dropped some new information about their upcoming film Black Panther.
We previously met the hero, who is also a Wakandan king, in the last Captain America movie.
Now the director has revealed that Black Panther's enemy will be an expert fighter called Erik Killmonger - played by Michael B Jordan.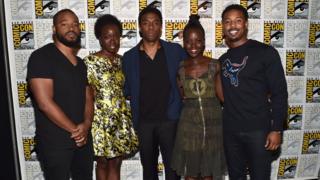 Getty Images
They'll be joined by actresses Lupita Nyong'o and Danai Gurira, who will be part of Black Panther's super-strong group of female bodyguards.
Black Panther will hit UK cinemas in July 2018.
Justice League unites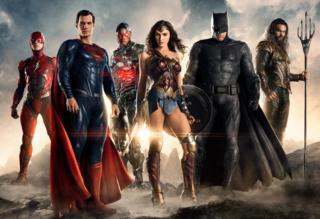 Warner Bros
Warner Bros also revealed some huge secrets in a preview for the new Justice League movie.
The footage shows that Superman is alive, after movie fans thought he'd died at the end of the Batman v Superman film.
Justice League will see Batman, Superman, Wonder Woman, The Flash, Aquaman and Cyborg all join forces to fight against a new enemy.
The film will be out in cinemas in November 2017.
Lego Batman vs Batman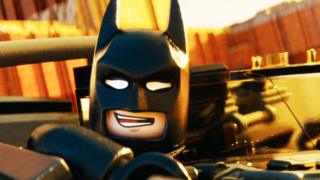 Warner Bros/Lego
The first trailer for The Lego Batman Movie was shown at San Diego Comic Con.
In the new Lego film, Batman will have to face-off against his nemesis The Joker, as well as put up with his new side-kick Robin, voiced by Michael Cera.
The film will hit cinema screens in February 2017.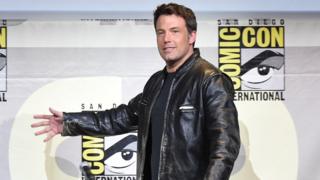 Getty Images
There was also big news from another Batman.
Actor Ben Affleck, who plays the current live-action Batman, confirmed that he would star in and direct another new Batman movie.
All we know about the new film is that it will focus on Batman's roots as a detective.
However, rumours have suggested it could be set in Arkham Asylum, and feature lots of Batman's famous enemies.