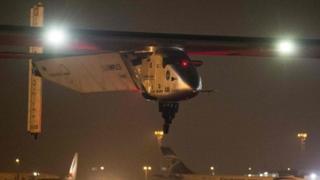 Solar Impulse plane starts final flight
The Solar Impulse 2 plane has set-off on the final leg of it's round-the-world journey.
The eco-plane flies using only the energy from the sun, and stores it in batteries, which allow it to fly at night.
It has a wing-span of 72 metres, but weighs about the same as a car.
It started its round-the-world journey from Abu Dhabi in March last year, and should land there again in around two days time.