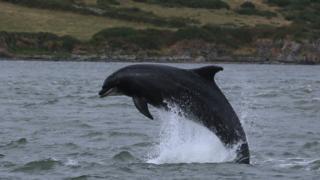 Dolphin spotting in Cardigan Bay
Scientists from the Sea Watch Foundation want to get you guys, and grown ups, out and about around the UK learning more about marine mammals.
Over the past forty years whales, dolphins and harbour porpoises have been monitored all around the coast.
Sea Watch hope to improve the protection of whales and dolphins around Britain and Ireland by keeping track of them and teaching people about the threats they face.
So Martin's been to Cardigan Bay in Wales - home to the UK's largest population of Bottlenose dolphins - to join in with an annual watch.
But will they spot any dolphins?