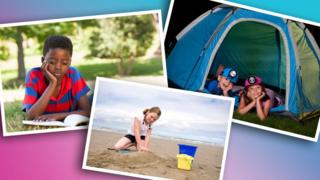 iStock
It's summer so it must mean one thing - a huge summer holiday from school with lots of time to do something new.
Have you got anything planned for the holidays - will you be seeing a film at the cinema or trying to read as many funny story books as you can?
Perhaps you're going on a holiday or plan to build a den in your garden with your friends or brothers and sisters?
Whatever your plans, send in your comments and let us know!
This chat page is now closed, thanks for sending in your comments.

I am going to London with my family to go to Madame Tussauds and Legoland and see family.
Fatima, 10, Manchester, England
I am going on my bike and going down to England to visit family.
Hope, Scotland
I'm going to be seeing my cousins and going to Wales
Jessica 15 London, England
I'm going on holiday to see family.
Leah, 9, Bournemouth, England
I am going to Peru with my sister, mum, dad and grandma.
Alexander, 10, London, England
I'm going to see The BFG on Friday.
Anna, 10, Scotland
I am probably going to go nowhere just staying at home.
Nawar, 12, London, England
l will be going dancing and singing.
Jessica, 7, Wrexham, England
I am going camping in Wales and then going to Cornwall for 4 days.
Victoria, 8, West Midlands, England
I am going to Skegness and my mum and dad are getting married.
Brooke, 11, Rotherham, England