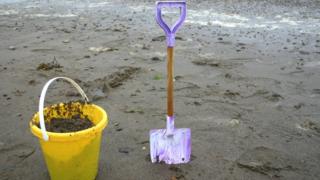 Tuesday 19 July was officially the hottest day of the year so far in the UK with temperatures reaching 33C in places.
Lots of people were out at parks and beaches enjoying the warm weather, but it was sometimes tricky staying cool.
So what did you do to stay cool? Did you go for a swim or stay in the shade? Or did you try and keep cool indoors instead?
Send us your comments and let us know how you coped with the hottest day!

Your Comments
My thing to keep cool was to pour water over yourself. It worked as a treat because I was really cool. It was definitely too hot for me as I couldn't sleep at night.
Leon, Wakefield, England
I stayed cool by having a cold smoothie.
Araan, 9, Slough, England
I have used a big fan in my room and used a self chilled hot weather cooling spray to cool myself down.
Jessica, 15, London, England
I had to use a small fan during the day but in my bedroom, we own a huge air conditioner.
Edward, 9, Hampshire, England
I slept with an ice pack to stay cool at night.
Eve, 11, Hampshire, England
I stayed cool at night by spraying water all over my bed, mattress, pillow and duvet. Oh, and myself.
Tom, 9, West Sussex, England
I had a fan and took the duvet out of the sheet but I didn't use it. Also put my feet in cold water.
April, 9, England
I stayed inside and fanned myself. I don't like the hot weather because I end up ill as I don't have good temperature control.
Hope, 15, Perth and Kinross, Scotland
I have a fan on a chair, sleep without a top and have a cold flannel on my head.
Isabel, 10, England
I stayed cool by eating ice cubes.
Joe, 9, Herefordshire, England
You must ask your parent, teacher or guardian for permission before you send us a comment and a photo.
We may show your comment on our website or in our TV bulletins. We'll show your first name and which town you're from - but we won't use your details for anything else.