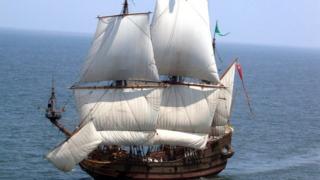 What was the Mary Rose?
A warship that sank nearly 500 years ago off the south coast of England is being displayed to the public for the first time.
The Mary Rose sank in 1545 and for hundreds of years she lay at the bottom of the sea.
No one is sure why or how the ship was lost but in 1982 it was lifted back to the surface.
After millions of pounds of restoration and years of hard work, people will finally get to see the historic Mary Rose.
It's the only 16th Century warship on display in the world, and it will remain at the Mary Rose Museum in Portsmouth.
Watch Ricky's report as he finds out about this incredible ship.