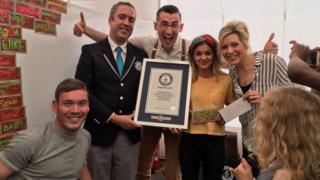 Biggest word wall record set by CBBC
This is the moment that a new world record was set, live on Newsround at CBBC's Awesome Authors event in Birmingham.
Children and adults have been creating a huge wall of words for the "most contributions to a text collage" record.
Everyone had to write one word on to a "brick" sticker and add it to the wall.
It had to reach 2,000 words to set a new world record and Newsround's Martin was there when it hit that magic number...