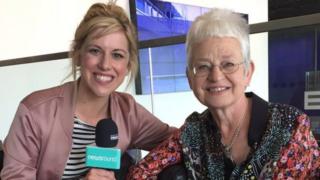 Jacqueline Wilson reveals new book
Dame Jacqueline Wilson has told Newsround exclusive details about her new book.
It's about a child evacuee called Shirley, who is sent from London to the countryside during wartime.
Jacqueline revealed that she's completed eight chapters of the book so far.
There's no release date or title yet, but Jacqueline said she hopes it will be made into a TV series like Hetty Feather.
Jacqueline has been appearing at CBBC Awesome Authors in Birmingham, a weekend of events to get kids excited about reading, writing and storytelling.