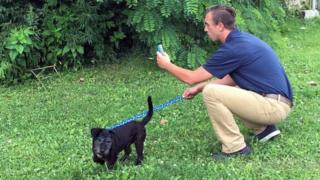 Muncie Animal Shelter
Volunteers can now clock up their Poké-miles whilst walking dogs at an animal shelter in America.
The Muncie Animal Shelter in Indiana put a shout out on their social media sites looking for Pokémon Go players to volunteers to walk some of the shelter's dogs.
The new game, which was officially released in the UK on 14 July, encourages players to walk around and collect virtual creatures called pokémon.
For example players can walk up to 10 kilometres to hatch a rare pokémon egg.
Check out our guide to Pokémon Go, and some top tips for staying safe whilst playing it here.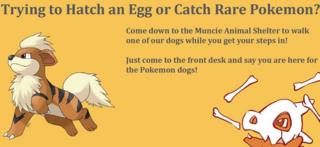 Muncie Animal Shelter
So the animal shelter's director Phil Peckinpaugh thought it might be a good idea to see if players would volunteers to walk their dogs at the same time.
He said: "There's been an incredible response, and it's just kind of taken off," "We even had to go and buy more leashes this morning."
There are around 75 adoptable dogs at the shelter, and Phil hopes that this idea will help keep the dogs fit and maybe even get some of them a new home.