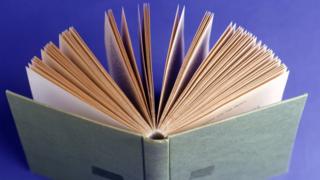 Newsround will be speaking to loads of your favourite authors this weekend at CBBC's Awesome Authors.
It's a big event taking place in Birmingham, celebrating all things brilliant about books.
We will be speaking to loads of famous authors like:
Jeremy Strong - who wrote: The-Hundred-Mile-An-Hour-Dog
Lucy Hawking - who wrote: George's Secret Key to the Universe
Frank Cottrell Boyce - who wrote: Millions
Nicola Davies - who wrote: Surprising Sharks
Bali Rai - who wrote: Fire City
Amber Lee Dodd - who wrote: We Are Giants
Whether you'd like story writing tips from a pro, or want to know more about your favourite characters, we want you guys to send us your questions!

This chat page is now closed. Thanks for sending in your questions.
Olivia, 12, Coventry
What would you rather write about: emojis or monkeys?
Jessica, 15, London
Question for Jeremy Strong: What inspired you to write the 'My Brother's Famous Bottom' books?
Lucja, 10, Bradford
My favourite author is Jacqueline Wilson. And my favourite book series are the teenage books.