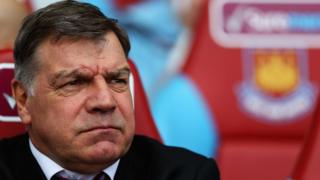 Getty Images
Could this man be the next manager of the England team? His name is Sam Allardyce and he is the current manager of Sunderland.
The English Football Association are in talks with him to see if he could be the man for the top job. If they like him - he'll pick up from where Roy Hodgson left off.
Hodgson resigned as England manager after his side crashed out of Euro 2016.
Allardyce is not the only Premier League manager linked to the England job.
Arsenal's Arsene Wenger, Bournemouth's Eddie Howe and Hull City's Steve Bruce have all been rumoured as possible candidates but Allardyce is the favourite.
He was interviewed for the role in 2006 after Sven-Goran Eriksson left following that year's World Cup but Eriksson's assistant Steve McClaren got the job instead.
This chat page is now closed. Thanks for your comments.
I think the next England manager should be Tim Sherwood because he lead Aston Villa to the fact cup final 2014/2015 season. Come on England!
Ethan
I don't think that Sam Allardyce should be the new England manager because he is ours and he kept us in the Premier League unlike Newcastle.
Erin, 11, Sunderland