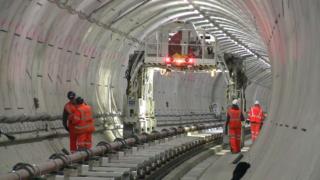 How do you build a new underground railway?
Something BIG is happening beneath the streets of London.
Deep underground the biggest building project in Europe is taking place, to make a brand new underground railway line.
The Crossrail project to build this new trainline for London started in 2009, with lots of digging.
Builders even unearthed skeletons dating back to Roman times, roman coins and roads, a tudor mansion, and a plague pit.
Seven new stations are expected to open in 2018, with 200 million passengers set to use the new line every year.
CBBC's super scientific reporter Fran Scott has gone 'under' the scenes to find out what goes into this massive build.