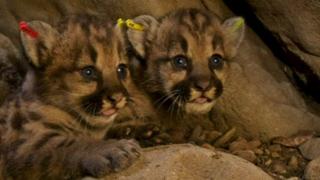 Mountain lion cubs found in US
Five newborn mountain lion cubs have been found in the mountains just outside of Los Angeles in America.
The kittens are part of two litters and both mothers are being tracked by the US National Park Service.
Researchers looked at GPS signals from the mothers' collars in order to find the cubs.
This footage of them has just been released.
Pictures from US National Park Service.