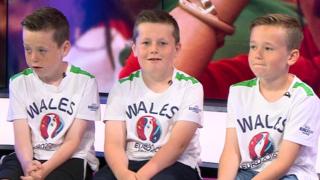 Wales kids: 'Usually it's all about rugby'
Wales fans have told Newsround they are devastated but "really proud of the players".
They say that they usually talk more about rugby but that's changed after Wales's performance at the Euros.
Wales ended their fairytale Euro 2016 journey in Lyon in France with a 2-0 defeat to rivals Portugal.
The team has made history - it's the first time they have got this far in a major tournament.
And it's their first major competition in nearly 60 years.
Watch Martin's interview with brothers Joe, Ethan and Sam about the defeat.