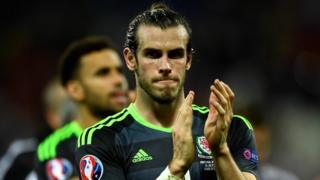 Allsport/Getty Images
Wales's fairytale Euro 2016 journey has ended after a 2-0 defeat to Portugal in the semi-finals.
It was their biggest game in history - Wales have never got this far before in a major tournament.
Wales were the last home nation left in the Euros, which was their first major tournament since 1958.
After a goalless first half in Lyon, Cristiano Ronaldo and Nani scored in the second half to take Portugal to the final.
Portugal now face France or Germany in Sunday's final at the Stade de France in Paris.
We want to know what you think about Wales's journey and what message you have for the team.

This chat page is now closed. Thanks for your comments.
I was surprised when I found out they had been beaten. I only watched the first half! Good try, Wales!
Oliver, Surrey
I'm really proud of Wales, I would rather face sadness now than Wales going out in the finals. This has been amazing because we're a small country with a big heart.
Hana, North Wales
I'm proud of Wales. It was a historic moment. It would have been great for them to win but well done Wales!
Hannah, Derby
I am really sad that Wales got kicked out of the Euros, they were the only one left of the home nations.
Sammi, Aberdeen