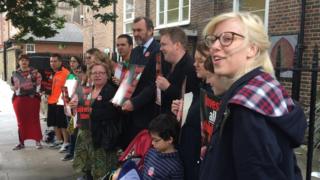 Hundreds of schools across England are closed today because many teachers are striking.
It's meant that lots of children aren't going to school or have different timetables.
Lots of teachers have not gone to work because they are having an argument with the government about how much money schools get.
They also think that teachers work too many hours and should be paid more for the work they do.
But Nicky Morgan, who is the member of government in charge of education, said the strike was "unnecessary".
She says that teachers should talk more about their concerns with the government instead of striking.