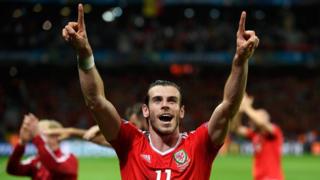 Getty Images
It's a huge match for Wales on Wednesday - they'll be taking on Portugal in the Euro 2016 semi-finals.
They beat Belgium 3-1 on Friday to get through to the semis.
It's the furthest stage Wales have ever reached in a major tournament.
Wales star Gareth Bale will be up against his Real Madrid teammate, Cristiano Ronaldo, who plays for Portugal.
It will be a tough match - so we want your videos wishing Wales good luck!

This chat is now closed - thanks for your videos!