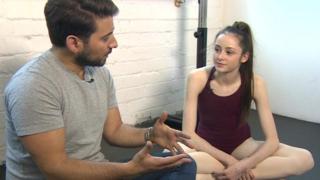 Inspiring dancer takes 'The Next Step'
Julia is a young and talented dancer who is competing on CBBC's Taking The Next Step in the hope of landing a role in the The Next Step.
But she faces a problem - Julia has a medical condition which causes her spine to be curved.
She will need surgery soon and it could affect how much she can dance and what kind of dance she will be able to do.
That isn't stopping her though and right now she is staying positive, focused and determined.
Ricky met with her to talk about her taking part in 'Taking The Next Step' and what the future holds.