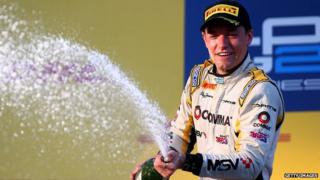 Ricky chats to new British racing driver
Jolyon Palmer is a new British face on the Formula 1 racing scene.
He's following in his Dad's, Jonathon Palmer's footsteps who was also an F1 driver and Race track owner.
Although he has been a reserve driver and test driver since 2014, this is his first year competing as a full Formula 1 driver.
Ricky caught up with him on the Newsround sofa to talk racing.
Check it out!