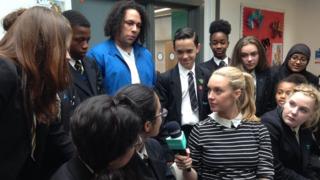 Kids on racism: 'It's not a time to be divided'
More than 300 hate crimes have been reported to British Police since the EU referendum result on 24 June.
Police say that they had 331 reports of hate crimes in the week after the EU vote when they normally have around 63.
There have been widespread reports of racist abuse on public transport, graffiti on public buildings and letters being posted through people's letterboxes.
According to the UK's National Police Chiefs Council there has been "an increase in community tension directed at the migrant community".
Prime Minister David Cameron has said the UK "will not stand for hate crime or these kinds of attacks".
So what would you do if you ever witnessed, or experienced racism? Hayley's been to discuss it at a workshop hosted by anti-bullying campaigner Alex Holmes.