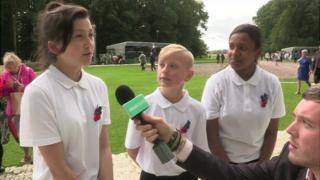 Kids remember soldiers in Somme ceremony
Today marks 100 years since one of the deadliest battles in history - The Battle of the Somme.
On the first day of the battle, nearly 20,000 British soldiers were killed, another 40,000 were injured.
One hundred years on, Martin went to visit the Thiepval Memorial in Northern France, for a special ceremony to remember those soldiers who lost their lives.
He spoke to some of the children who took part in the ceremony, as part of a trip organised by the British Council, to learn more about the 'Great War'.