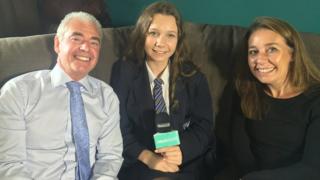 Girl changes grandad's mind on EU
Meet Sophie and her grandad - they're usually good friends but they disagree about a really big issue.
Last week, adults in the UK voted for the country to leave the European Union, a club of 28 countries.
More younger people who voted wanted the UK to remain in the EU, while more older people voted to leave the club.
Fourteen-year-old Sophie is too young to vote but thinks we should have stayed in the EU, like her mum - but her grandad voted to leave.
Watch as Sophie tells him how she feels about his decision.