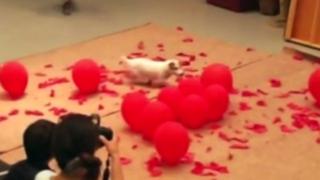 Dog breaks balloon-popping record
Twinkie the Jack Russell must be 'bursting' with joy - he's just broken the balloon-popping record for dogs.
Twinkie, from California in the USA, popped one hundred balloons in just 39.08 seconds.
He smashed the previous record of 41.67 seconds set by Cally the Wonder Dog on Britain's Got Talent.
Check out Twinkie in action.
Footage courtesy of Guinness World Records