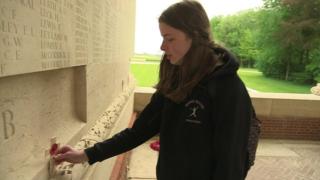 The kids in search of local WW1 heroes
These students have been to France to seek out the stories of the soldiers that lived near them, before they enlisted to fight in World War One.
They visit the Thiepval Memorial, the memorial to the 72,195 missing servicemen, who died in the Battle of the Somme, with no known grave.
Martin joins them as they trace the brave men's journeys from their hometowns to where they fought and died.