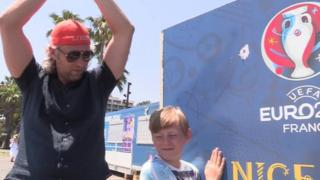 How to do the Iceland Euros clap chant
Iceland supporters have become almost as well known for their chanting as their success on the pitch.
The small island nation kicked England out of the Euros with a 2-1 victory on Monday, despite being ranked only 34th in the world.
It meant heartbreak for England fans, but jubilation for the underdogs.
Was it the crowd's powerful chant that carried their team to success?
These footy fans from Iceland have showing Jenny how to do it...