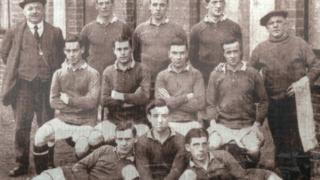 The football stars who fought in WW1
During World War One, Britain desperately needed volunteers to fight and everyone was called upon - even sports stars.
In November 1914, a group of footballers from Heart of Midlothian FC signed up to join the new 16th Royal Scots Battalion.
At the time the club were on track to win the Scottish League, but the move took them from the playing field to the battlefield.
The Hearts footballers were soon joined by players from other clubs, including Raith Rovers, Falkirk, Dunfermline, East Fife and Hibernian.
Hundreds of supporters also followed them in the fight against the Germans.
Their bravery has never been forgotten and Martin's been finding out more about the players who put their lives on the line.