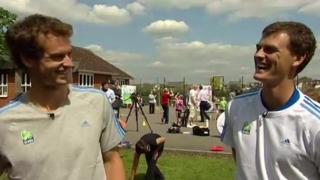 Can the Murrays spell as well as they play tennis?
Andy Murray is going in to Wimbledon 2017 as number one seed while his brother is third seed in the doubles.
There are high hopes of a Murray double a this years Championships.
Back in 2012, however, the two faced each other in the Newsround Wimbledon Spelling Bee.
Do the brothers pay any attention to their opponent's names up on the scoreboard?
Find out which Murray brother wins in the video.