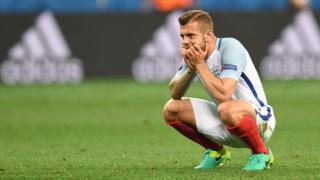 AFP
England are out of Euro 2016 after an embarrassing defeat to underdogs Iceland.
Wayne Rooney scored a fourth-minute penalty, but the team went on to be beaten 2-1 at the last 16 stage.
Iceland are ranked 34th in the world and have a population of just 330,000 - about the size of the city of Leicester.
Following the match, Roy Hodgson resigned as England manager.
The result came as a shock to fans and pundits.
Former England captain Alan Shearer described the defeat as the "worst performance" he's ever seen from the team.
We want to know what you think?

Thank you for your comments. This chat page is now closed.
I think that it was not right for Roy Hodgson to step down because he shouldn't have given up.
Jessica, London
All of us who were supporting England are feeling very sad about their defeat, however we also have some Iceland fans who are both surprised and impressed by the result.
Some of us think that maybe England didn't show their best. Although we understand why Roy resigned as England Manager as England have not performed well, we also think that he is a good trainer and he knows his team well and how they might be able to play better. But we are still all happy that they made it to the knock out stage.
Year 3, Newport Community School, Devon