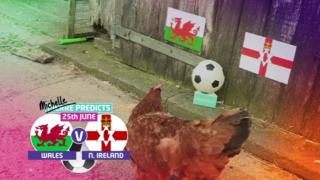 Michelle the hen's Euros predictions
Meet Michelle, Newsround's very own predicting hen who will be popping up on CBBC during Euro 2016.
She will be taking over from Pierre to show off her, erm, psychic powers by predicting the winner of the home nations' matches.
Whichever food she picks to eat - that is the country that Michelle thinks will be the winner.
So without further a cock-a-doodle-doo, let's see how well her predicting powers are working...